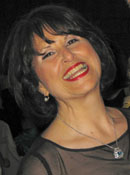 Karen graduated from Wayne State University in Detroit, where she majored in journalism, covered the campus for the New York Times and met her future husband over typewriters at the student newspaper. She was an assistant editor on the FTD FLORIST Magazine and had a successful career in public relations before she began writing books.
Karen is active in the Jewish community and in Italian genealogy. She has visited Italy numerous times, is studying Italian and holds dual American and Italian citizenship. She lives in Michigan with her husband and one of their two sons.  Their home is filled with books, many stacked in Karen's to-be-read pile.
Her most recent book is Unto the Daughters: The Legacy of an Honor Killing in a Sicilian-American Family, a family memoir from St. Martin's Press, which was taught in an Italian American Studies Program at the Harvard Extension School.
Like The Book of Names, Karen's and Jill's second hidden history thriller, The Illumination, was published by St. Martin's Press in the U.S. and Canada, and by Rowohlt in Germany.
Karen's first ever short story, Down Under, appears in Cast of Characters, Novelist Inc.'s first anthology -- 28 short stories published by Fiction Studio Books.
What's In A Name?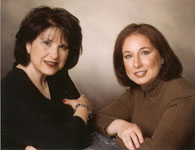 Best of friends of more than 30 years, Karen Tintori and Jill Gregory previously co-authored two novels as Jillian Karr. For nearly a decade, Karen and Jill concentrated on their individual careers while trying to figure out how to "out" the Lamed Vovniks. 
Karen's legal American name appears on her first non-fiction collaboration, What Does Being Jewish Mean?  By the time she and Jill wrote their first novel together, they decided that since they write with one voice they'd do it as one person--Jillian Karr, a combination of their first names.  For Karen's first solo work of narrative nonfiction, Trapped: The 1909 Cherry Mine Disaster, she decided to begin writing under her legal Italian name.
Contact Information
To contact Karen email her.
For author appearances and other professional business, please contact Karen's agent, Sally Wofford-Girand. 
Sally Wofford-Girand
Union Literary
30 Vandam St.
Suite 5A
New York, NY 10013 
212-255-2112 phone